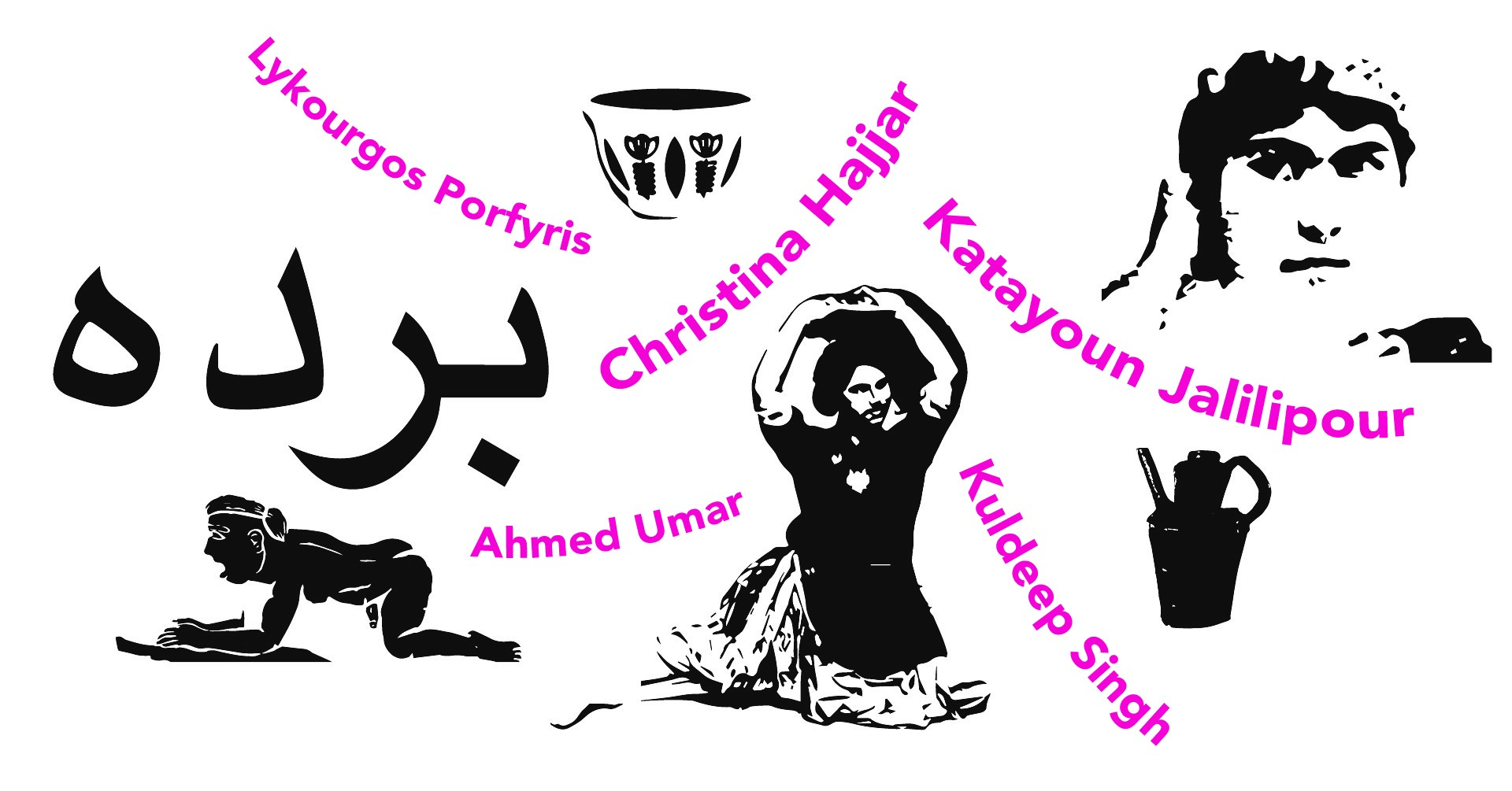 برده
Christina Hajjar, Katayoun Jalilipour, Lykourgos Porfyris, Kuldeep Singh, Ahmed Umar
Curated and text by: Hanan Benammar and Noor Bhangu
ARTendal 13.08-07.09
برده marks a porous space, delimited by a set of conventions.
برده hides and reveals, keeps enclosed and puts on display.
برده gestures to those practices long concealed from the outsider's gaze.
برده can be an opening, an invitation to dialogue and relation.
برده is a transliteration between history, traditions, rituals and contemporaneity.
Considering the recent advances of queer discourse in the public sphere, برده returns to the binarisms of public and private, as they been practiced in Islamic history and culture. We understand Islamic history and culture as a field of ideas and complex geopolitical juxtapositions, which allows us to find alternative ways in which we can understand and describe queer space and experience. 
Western notions of "coming out" and public homosexuality do not find easy translation in contexts where queer desires and identities have long been understood in terms of multiplicity in containment. Instead, cultures engaged with Islam have historically formed homosocial spaces that provided ample opportunities for erotic relation and the unfolding of alternative sexual identities, in parallel to patriarchal systems of gender segregation. Through this space of paradox, we aim to recover the space of queerness. 
This group exhibition, alongside the accompanying panel discussion سياسة البرده, invites artists to share their own notions of what it means to be queer and queer space. Queer space, in this setting, is a spatial metaphor to consider the broader dynamics of power and knowledge as they unfold around queer practices. Moving between domestic interiors and public architectures, برده asks the audience to reflect on the binaries imposed on sexualized, gendered, and raced bodies through the frame of public and private.
Biographies
Christina Hajjar is a Lebanese Canadian artist, writer, and cultural worker based in Treaty 1 Territory. Her practice considers intergenerational inheritance, domesticity, and place through diaspora, body archives, and cultural iconography. As a queer femme and first-generation subject, she is invested in the poetics of process, translation, and collaborative labour. Her work involves photography, film, performance, installation, publishing, and curation. https://christinahajjar.com/
Katayoun Jalilipour (b. 1995, Isfahan) is an Iranian-born multidisciplinary artist, performer and writer based in the UK. Through humour, provocation and storytelling, their practice uses the body as the subject to talk about race, gender identity and sexuality. They use speculative histories and fictions to re-tell stories through a queer lens.
Their work takes an experimental approach, in which they create an environment for new languages and possibilities arising. They have an ongoing body of research looking for fragments of queerness hidden in Iran's Qajar era, specifically stories that centre intimacy, eroticism and gender nonconformity.
Lykourgos Porfyris is a visual artist living and working between Oslo and Athens. He holds a BA from Athens School of Fine Arts and an MFA from Kunstakademiet at KHiO. Lykourgo's practice is engaged with the production of new mythologies and legends. His stories are misinterpreting big mainstream narratives that tend to embrace the victories of the heroes and he is transforming them into alternative fictions, celebrating the failures of the "losers". In his recent works he is exploring his albino identity disability (impaired vision). More specifically, he is interested in how albinos are represented in occidental history and contemporary pop culture.
Kuldeep Singh is an interdisciplinary artist creating a hybrid system of fragmented narratives in paintings, films, and immersive performances in installation setups. Which seek inquiries in relating queer male bodies to an ecofeminist paradigm, through a decolonial perspective. Through his decade-long intensive training in the Indian classical dance form of Odissi, with critically acclaimed exponent Madhavi Mudgal in New Delhi, he brings an array of deconstructed elements from its compound expression. He is the recipient of the competitive New York Foundation for the Arts Fellowship. And most recently he was awarded the Robert Rauschenberg Foundation's dancer grant.
Ahmed Umar is a multidisciplinary artist working with ceramics, jewellery, performance and printmaking. He came to Norway from Sudan as a political refugee in 2008. Graduated in 2016 with Master's degree in Fine arts, section of Medium and Material based Arts from the Oslo National Academy of the Arts. Umar uses a variety of mediums to study the intersection between cultural values, traditions and religion. Through tapping into his own personal background, he protests the silencing and compromising of queer and unconventional lives.
Hanan Benammar is an Algerian and French artist based in Oslo who works conceptually on geopolitical, environmental and social issues. Her practice ranges between music, sound and video installation, performance and art in public space. Many of her works are made over a long time period, dedicated to a process that will unfold on a life-time scale and repeat over time in different forms. She also curates and organises events as part of her artistic practice.
Noor Bhangu is a curator and scholar, whose practice is rooted in relational curatorial aesthetics and practices. Through curatorial intervention, she hopes to involve politics of history, memory and materiality to problematize dominant histories of representation. She completed her BA in the History of Art and her MA in Cultural Studies: Curatorial Practices at the University of Winnipeg. In 2018, she began her PhD in Communication and Culture at Toronto Metropolitan University and York University in Tkaronto, Toronto. She is currently based in Oslo, Norway.