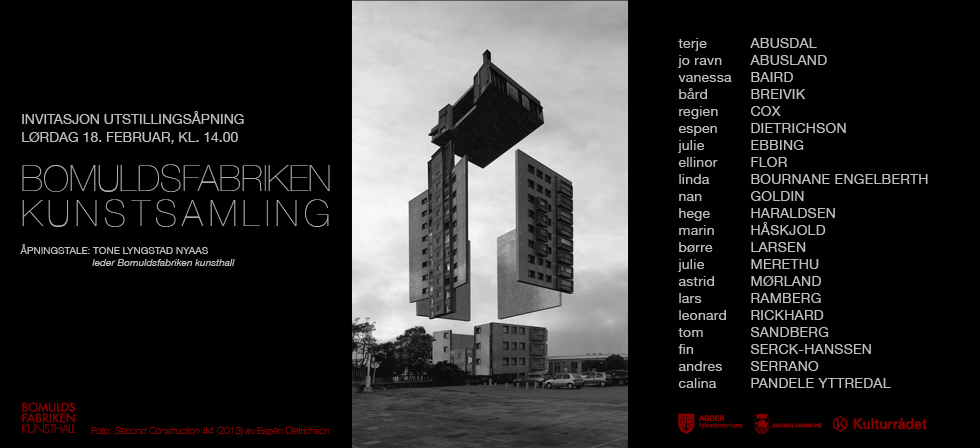 Bomuldsfabriken kunstsamling 18 februar – 8 mai 2. etasje
Det er en glede for Bomuldsfabriken kunsthall å kunne vise noen av institusjonens nyervervelser utført i løpet av de siste to årene. Utstillingen viser også verk i deponi fra flere samlere på norsk og internasjonal samtidskunst som Bomuldsfabriken har startet et samarbeid med i 2021.
Song of Sentient Beings er et tittelverk fra den amerikanske kunstneren Bill Jacobsens ikoniske serie fotografier fra 1994, som presenteres på utstillingen. Tittelen tar opp i seg hvordan eksistensielle temaer gjennomstrømmer store deler av utstillingen som en klangbunn, organisert langs fire hovedakser; Kjønn og identitet, kritisk diskurs, økologi samt rom og arkitektur. Bomuldsfabriken fortsetter å rette fokuset på LHBTI problematikk ved å vise flere verk fra 1980- tallet i Oslo og 1990-tallet i New York. Innenfor denne viktige problematikken presenterer vi verk som ble innkjøpt til samlingen fra utstillingen; Matrix of Gender og Break Free, to utstillinger som Bomuldsfabriken kuraterte som en markering av Skeivt Kulturår i 2022. Inn under temaet kritisk diskurs vises konseptuelle og tekstbaserte verk. Et fokus på abstraksjon, rom og arkitektur gjennomstrømmer den siste delen av utstillingen hvor flere verk fra samlingen og nyervervelser presenteres i dialog med utsynet til Kunstarena gruvene.
Deltagende kunstnere: Andres Serrano, Nan Goldin, Fin Serck-Hanssen, Tom Sandberg, Astrid Mørland, Regien Cox, Julie Ebbing, Linda Bournane Engelberth, Lars Ø Ramberg, Terje Abusdal, Calina Pandele Yttredal, Marin Håskjold, Vanessa Baird, Espen Dietrichson, Børre Larsen, Julie Merethu, Elinor Flor, Jo Ravn Abusland, Leonard Rickhard og Bård Breivik.